APsystems micros and expanded array boost art museum to LEED Gold rating
Bainbridge Island Museum of Art near Seattle has earned the vaunted LEED Gold environmental certification, making it the first new art museum in Washington state to achieve the Gold rating.
The certification is thanks to a newly expanded solar array using APsystems YC500 dual-module microinverters.
This past fall the museum nearly doubled its array to 100 modules. The 28kW system caps a host of advanced sustainability features that extend from the roof down into the earth beneath the museum itself.
"What's thrilling about this achievement is that it affirms how deeply Bainbridge Island and the museum itself care about all aspects of community vitality and wellbeing," said Sheila Hughes, BIMA Executive Director. "We live, work, visit and raise families in a place that invests equally and deeply in cultural enrichment and in sustainability.
"It's wonderful to see BIMA's LEED Gold status, made possible through the generosity of its local donors, as a leading example of both."
The U.S. Green Building Council's LEED certification – for Leadership in Energy and Environmental Design – is a progressive code that rates new buildings for sustainability and promotes eco-friendly construction techniques.
Designed by Bainbridge architect Matthew Coates, of Coates Design Architects, BIMA earned high marks for innovation in design, indoor environmental quality, water efficiency, and site sustainability.
"Art museums are inherently energy-intensive, making LEED Gold designation an extremely challenging goal," Coates said. "We're proud to demonstrate that architects, builders and clients can work together to create beautiful buildings for our environment and for our planet."
General contractor PHC Construction worked with the museum staff to secure LEED Gold certification. The expanded PV array provided the final "points" required under the LEED scoring system.
The array uses APsystems YC500 microinverters provided by Blue Frog Solar, and iTek Energy 240W and 280W modules.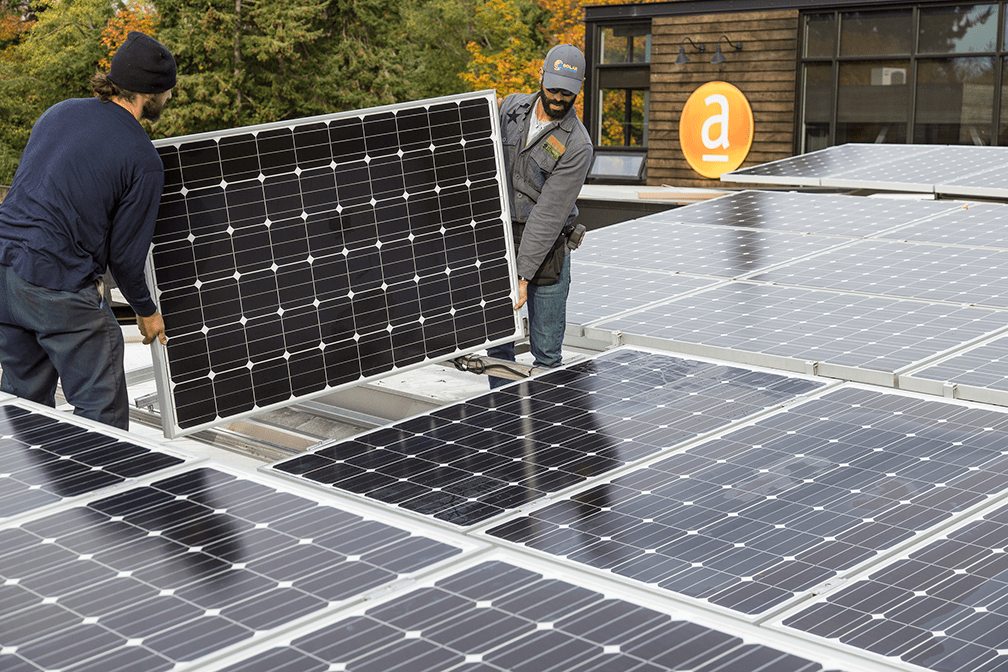 The inverters were provided free of charge by Blue Frog Solar, Northwest distributor for APsytems USA.
"When the art museum came to us with their solar proposal a few years ago, we could tell it would be a special building in every way," said Tim Bailey, Blue Frog Solar co-founder. "It's been an honor to contribute to both phases of their solar project, and support such a great institution."
Several other private donors stepped in so that the solar project had no effect on the non-profit art museum's budget.
Installer was Puget Sound Solar of Seattle.
BIMA opened in June 2013 to showcase contemporary Northwest art and has been an unqualified success, recently welcoming its 250,000th visitor.
________________________
Building a sustainable museum
Architect Matthew Coates designed the museum to embody forward thinking in both aesthetics and sustainable materials and systems in a facility-scale building.
That commitment started below ground. A geo-exchange system uses 14 bores beneath the foundation to reduce the energy used for heating and cooling the building.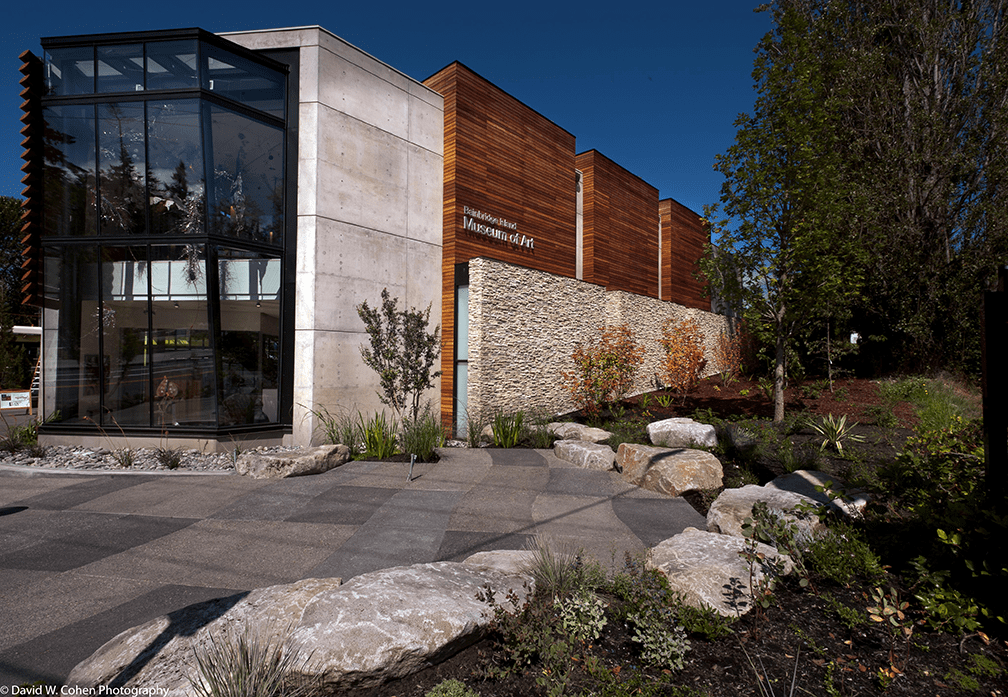 Drilled 400 feet, the bores act as a heat sink and source at a constant ground temperature of approximately 50 degrees. The system is designed to reduce heating and cooling energy by 90 percent, and to cut peak heating and cooling loads in half.
Thanks to the musuem's sunny southern exposure, nearly all of the publicly occupied spaces enjoy generous natural light to further reduce energy usage for lighting.
A sophisticated louver system across the two-story glass façade tracks solar angles to reduce heat gain and glare inside.
Low-flow water fixtures inside and Northwest climate-appropriate landscaping reduce water demand.
During construction, 95 percent of construction waste was recycled, while more than 20 percent of new materials came from recycled sources.  All paints, sealants and materials were selected to be non-toxic.
The site itself, on a prominent corner near the ferry terminal that connects the island with downtown Seattle, was reclaimed from a former automotive business.
During site preparation, numerous scrap automobiles and many hundreds of spent tires were excavated from the property and recycled.
BIMA now is an educational institution whose mission is "to engage a diverse population with the art and craft of our region and our time."
The art museum exhibits, interprets, preserves, collects and promotes works of proven cultural value as well as new those by emerging artists and craftspeople.
Information: www.biartmuseum.org.
https://usa.apsystems.com/wp-content/uploads/2017/01/BIMA-7099.png
672
1008
APsystems Team
https://usa.apsystems.com/wp-content/uploads/2020/03/APsystems-logo-primary.png
APsystems Team
2017-01-31 21:18:03
2017-02-01 21:55:35
APsystems micros and expanded array boost art museum to LEED Gold rating