2018 Commercial Award Winner: Poplar Grove Winery/Vanilla Pod Restaurant, Okanagan, B.C.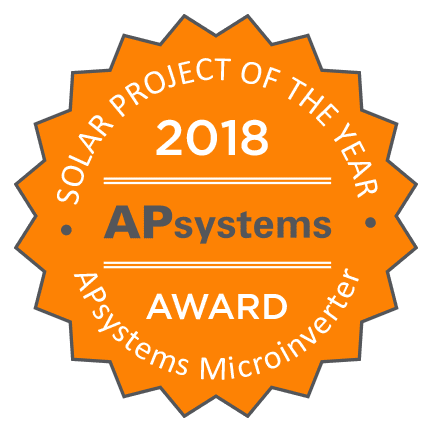 The same temperate climate and generous sunlight that makes the Okanagan Valley ideal for growing grapes makes it perfect for a natural harvest of another sort: solar.
When Tony and Barbara Holler, owners of Poplar Grove Winery, decided to add a solar-covered patio to the winery's Vanilla Pod Restaurant, they worked with installer Swiss Solar Tech Ltd. for a design that not only optimized harvest, but highlighted the solar technology itself.
For showcasing solar in a popular restaurant setting, the Swiss Solar Tech Ltd. is the winner of the APsystems 2018 Project of the Year Award for the Commercial category.

Poplar Grove winery and its 100-acre estate vineyards are perched on a mountainside overlooking the picturesque Okanagan Valley Lake and the town of Penticton in British Columbia, Canada.
The decision to go solar, Tony Holler said, "really revolves around the Okanagan's high sunlight hours, the increased efficiency and lower costs of solar panels and our belief that if you can use a renewable energy source like solar rather than fossil fuels, why wouldn't you do it? Solar also has the lowest environmental footprint of other renewable energy sources like hydro and wind."
It's the Hollers' second winery to go solar using APsystems microinverter products. In 2017, they installed a 389–module array at their nearby Monster Winery.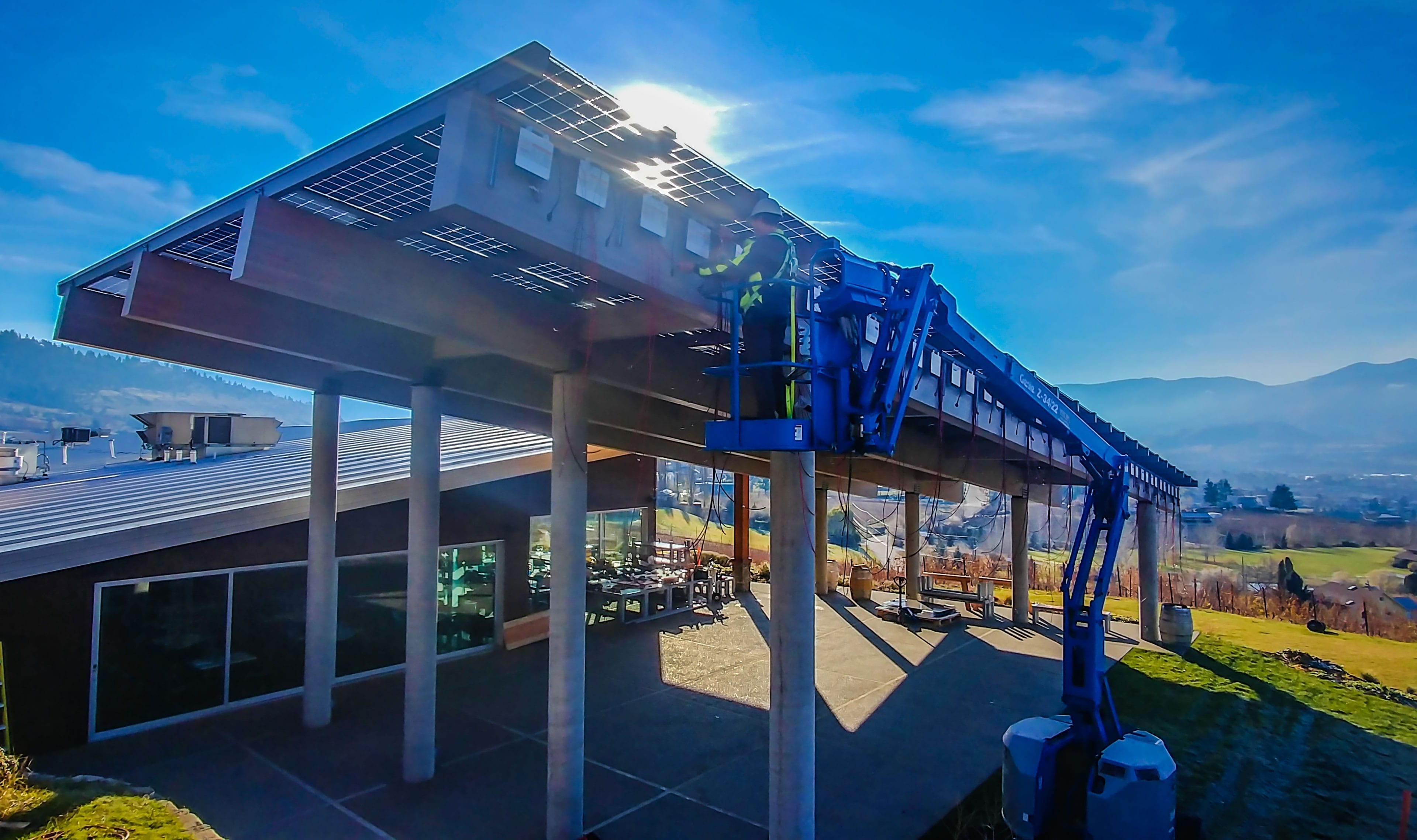 At Poplar Grove, Swiss Solar Tech Ltd. came up with an attractive, innovative design: a solar shaded restaurant patio that would provide enjoyable lunches and dinners for visitors, while harnessing the sun's energy year round.
The bifacial glass modules overhead make brilliant use of the sun by generating up to 35 percent more energy per watt than traditional single-sided modules. APsystems YC1000 3-phase microinverters tie in directly to the low-voltage DC modules, increasing safety for the guests under the patio awning while eliminating the possibility of high-voltage "arc" fires. 
A bold design touch: the APsystems microinverters were left exposed on the patio beam face, in full view of restaurant patrons below. It's a rare moment in the sun, so to speak, for a solar component generally covered over by modules or otherwise tucked out of site.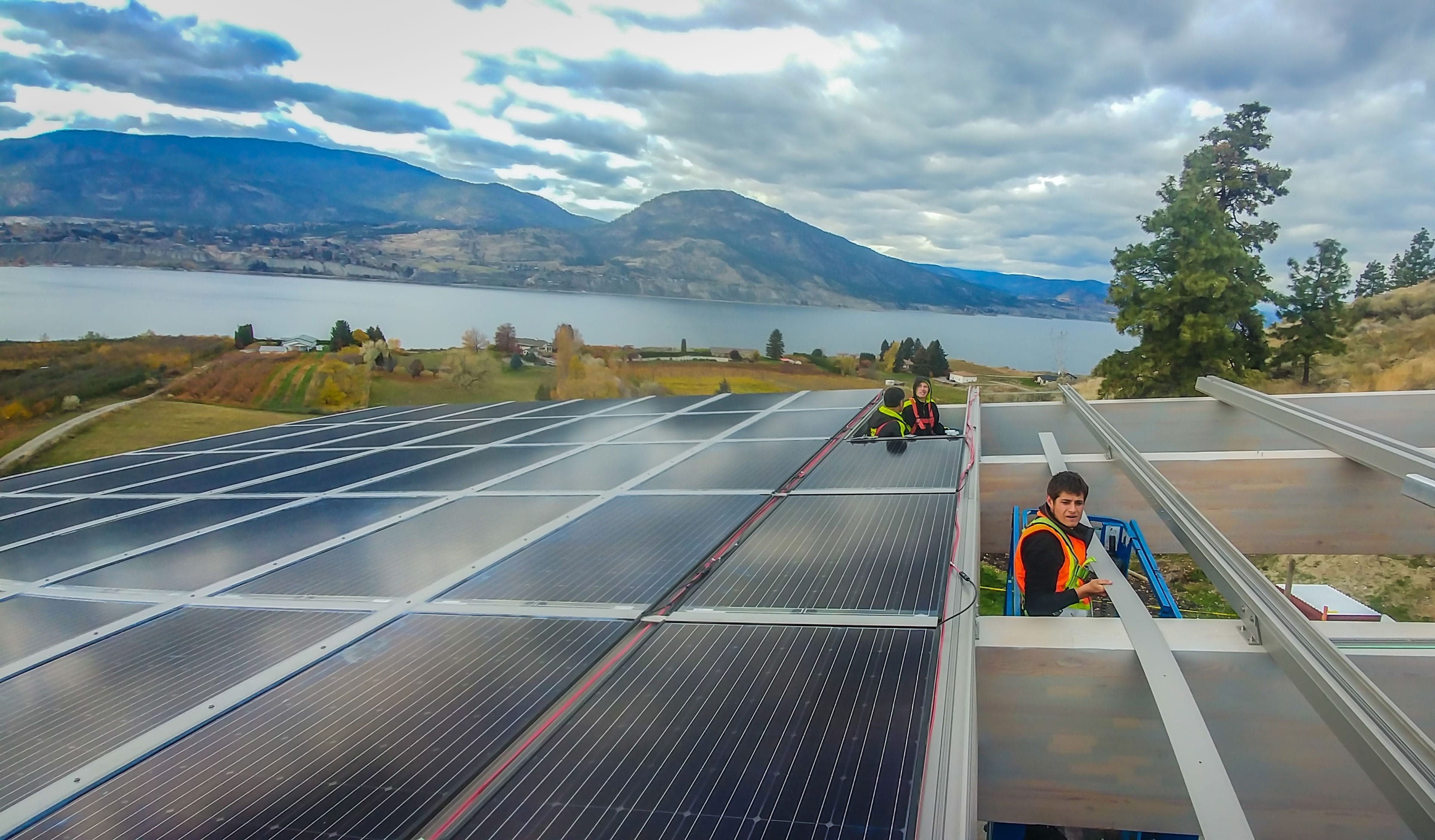 It's a practical application, said Susan Huber of Swiss Solar Tech Ltd., as the open installation allows for easy inspection and maintenance, while the YC-1000's NEMA-6 metal enclosures offer robust protection from the elements.
But there was a more important reason: for the Hollers, this project was not just about harnessing solar, but promoting it.
"The Hollers liked the sophisticated, hi-tech look of the APsystems microinverters," Huber said, "and they want to share that with their customers."
Installer: Swiss Solar Tech Ltd.
Project name: Poplar Grove Winery/Vanilla Pod Restaurant
Location: Okanagan Valley, British Columbia, Canada
Total system capacity: 46.36kW
Microinverters: APsystems YC1000-3-208
Total number of microinverters used: 42
Brand/wattage of modules: Prism Solar Bi60 bi-facial, 368 watt
Number of modules: 126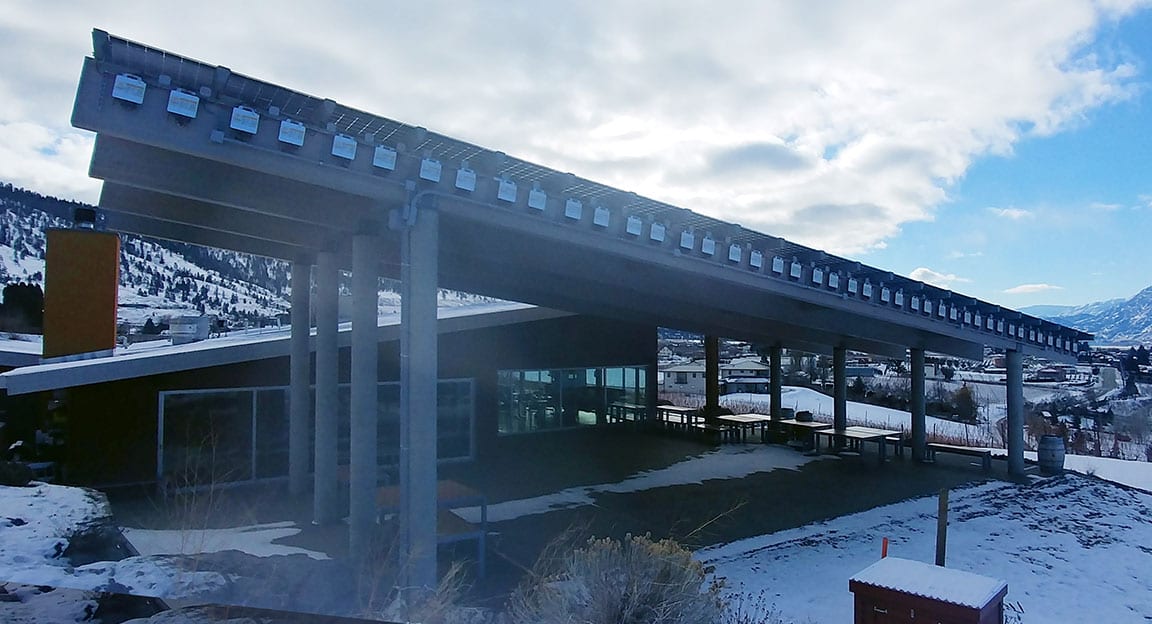 https://usa.apsystems.com/wp-content/uploads/2019/02/poplargrove5.jpg
2277
3840
APsystems Team
https://usa.apsystems.com/wp-content/uploads/2020/03/APsystems-logo-primary.png
APsystems Team
2019-02-27 22:56:50
2019-02-27 22:56:50
2018 Commercial Award Winner: Poplar Grove Winery/Vanilla Pod Restaurant, Okanagan, B.C.