The Daughters of the American Revolution Constitution Hall is the largest concert space in Washington, D.C., and one of the most revered buildings in the nation's capital.
Bringing solar to this National Historic Landmark Building posed an exceptional challenge: any renovation or addition would have to preserve the architectural integrity of the structure – including the roof.
TenKsolar and installer Standard Solar met the challenge with the proprietary REFLECT PV system, which includes APS YC500 microinverters.
For this outstanding application of APS microinverter technology atop one of the nation's landmark buildings, tenKsolar has earned the APS Project of the Year Award for commercial applications.
"We salute tenKsolar for what is truly a showcase solar installation," said Paul Barlock, APS Senior Vice President. "Constitution Hall holds a special place among our nation's historic buildings, and we're very honored that tenKsolar and APsystems could help preserve and enhance it."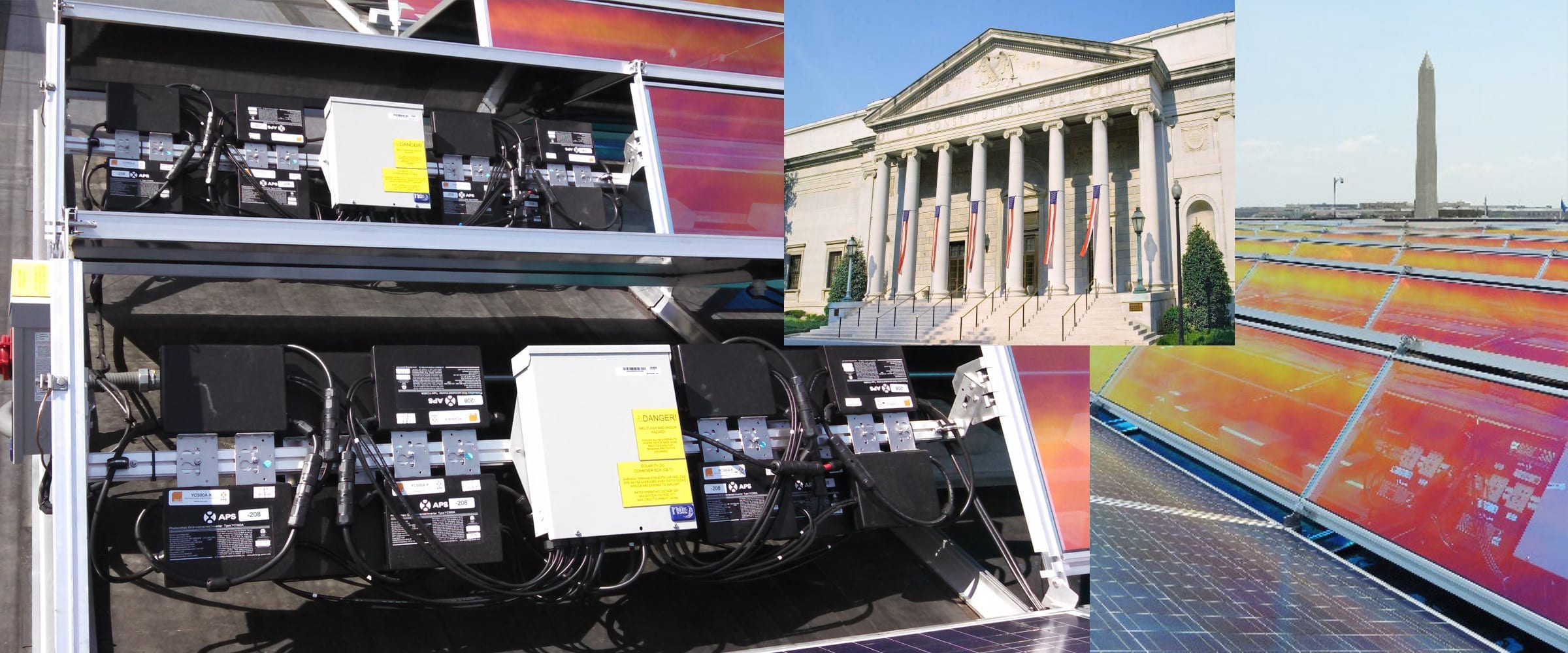 Built in 1929, the DAR Constitution Hall sits just off the National Mall a short distance from the White House. Half a million visitors enjoy performances in the spectacular concert setting each year.
Standard Solar's structural engineering report revealed the building's roof could not support the original legacy solar array they had designed, and the limited roof space would make installation of standard inverters and AC equipment exceedingly difficult.
Needing a better solution, they turned to tenK to provide a PV system that could match the original system's energy production at a lower weight. Not only did the REFLECT PV System provide the low-weight array the building required, it produces more DC energy in the same roof area.
The Constitution Hall ended up with a larger, and lighter sys­tem, maximizing the DAR organization's solar investment, and preserving the national landmark building for years to come.
The array, completed in June 2014, has a 69.29 kW capacity. Annual production for the concert hall is projected to be nearly 1.1 megawatt.
APS YC500 microinverters are integral to the REFLECT PV module system, built by tenKsolar in Minneapolis, Minn.
"We're very proud to bring solar to this beautiful landmark building in our nation's capital, and to showcase both tenK and APS technology in the project," said Joel Cannon, tenKsolar CEO. "This project shows that our technology can overcome space and weight issues to bring solar to even challenging, historic structures."
For more information, on the tenKsolar REFLECT PV system, see www.tenksolar.com.
See more photos of the project here.
https://usa.apsystems.com/wp-content/uploads/2014/06/apsystem-tenk.jpg
184
257
APsystems Team
https://usa.apsystems.com/wp-content/uploads/2020/03/APsystems-logo-primary.png
APsystems Team
2015-02-12 19:44:41
2015-07-29 21:35:40
APS Commercial Project of the Year AWARD WINNER: tenKsolar, DAR Constitution Hall installation, Washington, D.C.