APsystems QT2 Microinverter
Maximize Your 3-Phase Power with QT2 Quad
APsystems introduces its 2nd generation of native 3-phase quad microinverters, reaching unprecedented power outputs of 1728VA (for 208V) and 1800VA (for 480V) to harness the power of today's high-output PV modules. The QT2 microinverter gives commercial installers a powerful plug-and-play MLPE inverter that installs faster than competing solutions and is inherently compliant to rapid shutdown requirements.
With balancing 3-phase output, 4 DC inputs and encrypted ZigBee wireless, installers and system owners alike benefit from new QT2 architecture platform. The innovative design facilitates thermal dissipation while maximizing power production. The components are encapsulated with silicone to reduce stress on the electronics, dissipate heat, enhance waterproof properties, and ensure maximum reliability of the system. 24/7 access to performance data through apps or APsystems EMA web-based portal facilitate remote diagnosis and troubleshooting.
The new QT2 is grid-interactive through its Reactive Power Control (RPC) feature, designed to better manage photovoltaic power spikes in the grid. At 96.5% peak efficiency and improved reliability, the QT2 is a game changer for commercial solar.
Special Report: The Case for Microinverters in C&I Solar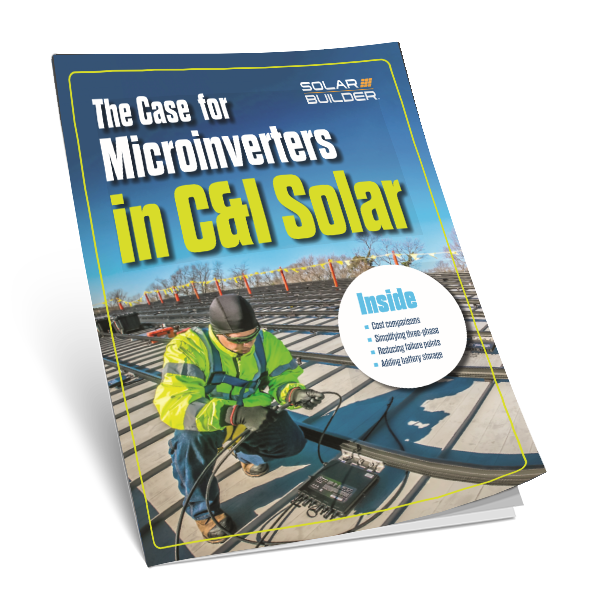 Technology is revolutionizing the design of commercial and industrial (C&I) rooftop solar systems, and one innovation leading the way is microinverters. With panels reaching unprecedented capacities of 600 W and beyond, and the emergence of UL 3741 compliant systems that provide more options for meeting NEC 690.12, microinverters are set to simplify C&I solar, just as they have transformed the residential solar sector. In this special report, Solar Builder magazine explores the advancements and benefits of microinverters tailored for C&I applications with APsystems.
KEY FEATURES:
Designed for 3-phase grid connection (208V or 480V)
Single unit connects to 4 modules up to 600W+, dual MPPT, module-level DC voltage

QT2 208V – 1728W output   //  QT2 480V – 1800W output

Native 3 Phase (L1, L2, L3), Balancing 3-phase output
Compatible with both △ and Y 3-phase grid

CA Rule 21 (UL 1741 SB) compliant

Integrated safety protection relay
Adjustable power factor
APsystems
Powering the globe. Including your corner of it.
APsystems is the #1 global multi-platform MLPE solution provider, offering microinverter, energy storage and rapid shutdown devices for the global solar PV industry. APsystems microinverters are intelligent, innovative, and the best-selling multi-module microinverters in the world.
Founded in Silicon Valley in 2010, APsystems encompasses 4 global business units serving customers in over 100 countries. With millions of units sold producing more than 4TWh of clean, renewable energy, APsystems continues to be a leader in the ever-growing solar MLPE segment.