THIS PROGRAM HAS ENDED
You may no longer register your purchases for this promotion.
APsystems A+ Installer Rebate Program– FALL 2015
$100 Visa gift card for every YC500 install,
$500 for your 3rd install through December 31.
APsystems introduces the installer Fall Rebate Program, offering you $100 back for each YC500 microinverter installation you register (see details below), with $500 back for your third installation. That's $700 back to you for using APsystems YC500 dual-module microinverters in three installations; each additional installation during the promotion period earns you $100 back.
This rebate is open to new and current APsystems installers, but YOU MUST BE A Registered and certified APSYSTEMS INSTALLER TO PARTICIPATE. Visit usa.apsystems.com/resources/support/ or contact support@APsystems.com for more details on APsystems registration and training.
Register using the form at right by Dec. 31, 2015, to receive your Visa® Gift Card.
Rebate in 3 easy steps.
• Complete APsystems installer registration and training* (visit usa.APsystems.com/resources/training)
• Install the microinverter system for your customer
• Submit information in the form at right to collect your rebate
*Installers that have already completed APsystems training do not need to retake it.
Why APsystems?
The YC500 microinverter offers these outstanding features:
• Daisy chain installation
• No trunk cable
• 1 microinverter accepts 2 panels for faster installation
• Independent MPPT per panel
• 10 or 25 year warranty
And free monitoring for life — not a costly add-on like some other brands. We stand behind every APsystems array with free monitoring and support.
Don't wait — order today.
APsystems YC500 microinverters installed between October 1, 2015 – December 31, 2015 are eligible for the rebate (other APsystems microinverter models are not included in the promotion, nor YC500 units and ECUs that have already been redeemed in previous incentive programs).
Remember – you must be a registered and certified installer.
Contact APsystems to become a registered installer today. Then contact your APsystems distributor for complete A+ Rebate program details, or email aplus@APsystems.com. You can also mail a request to the program administrator at:
APsystems
Attn: Rebate Program Administrator
600 Ericksen Ave NE, Suite 200
Seattle, WA 98110
See below for full Terms and Conditions and find out how to take advantage of this unbeatable offer. The time to bring APsystems advanced microinverter technology to your customers is right now – contact your participating distributor today.
ECU UID number: Is a 12 digit number beginning with 203.  APsystems will use the ECU number to identify the registered microinverters and confirm the serial numbers were purchased during the promotion.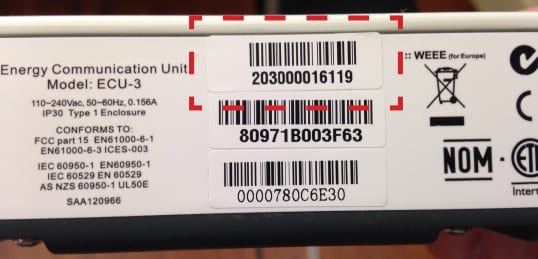 Installers, register your purchase here