APsystems 2015 Solar Project of the Year Awards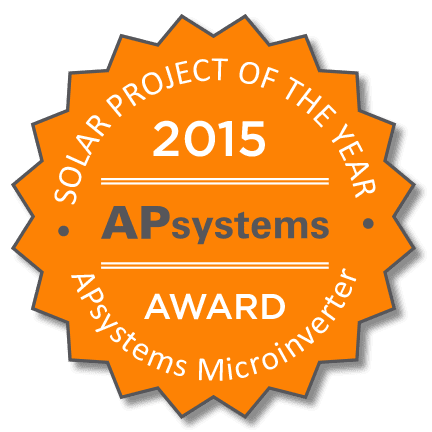 Dear APsystems installer,
It's been another great year for APsystems and we have you, our solar partners, to thank. You've put our advanced microinverter technology to work for customers in markets across the country.
Now it's time once again to look back on the great solar successes of the past year and share our very best stories with the industry and the world.
APsystems invites you to nominate your projects for our Solar Project of the Year Awards.
Tell us about your very best project — what set it apart in terms of scale, design, power output, challenging conditions, or your creative application of APsystems microinverter technology.
We'd like you to submit the project details here, including a brief write-up about your best installation, or more – enter all the projects you like. Remember to include some high-res photographs from several perspectives, a macro view of the installation and some close-ups of our microinverters in the array.  Your project can be completed or still in process. Entries will be judged by our APsystems team.
We'll be honoring top projects in both Residential and Commercial categories.
And we'll announce the APsystems Solar Project of the Year Award winners early in the new year through promotions that highlight your project and your company. APsystems is committed to helping you grow your solar business even as we grow ours, so this is a cross-promotion opportunity you'll want to take advantage of.
The winner in each category will receive at $500 gift card!
Our contest last year generated great interest from installers and brought out some fantastic projects; you can see the winners here.
Now we're excited to present a competition, highlighting the very best APsystems microinverter installations of 2015.
Submit your project entries here by January 8th 2016. 
Thank you for partnership and support, and a great 2015 for our company and yours.
Your friends at APsystems USA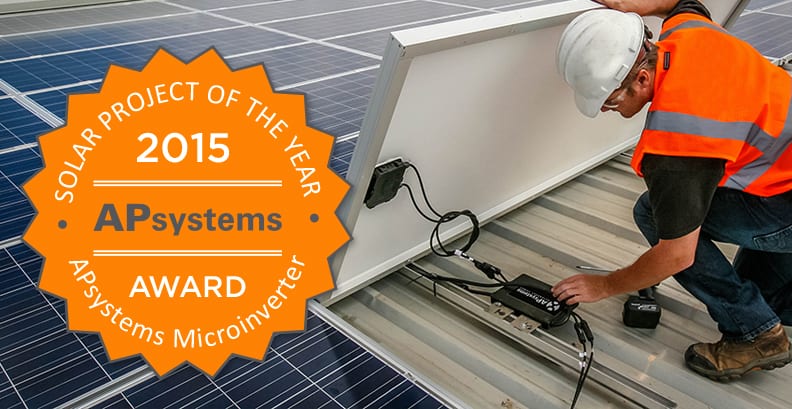 https://usa.apsystems.com/wp-content/uploads/2015/10/2015-icon.png
432
432
APsystems Team
https://usa.apsystems.com/wp-content/uploads/2020/03/APsystems-logo-primary.png
APsystems Team
2015-12-07 17:55:28
2015-12-09 21:56:49
APsystems 2015 Solar Project of the Year Awards